Bill Volcko
Skaneateles, NY
Click on a thumbnail to enlarge.



Here is another pic of my bird on Skaneateles Lake, village in background. Sitting on 18" of ice over 12' of water.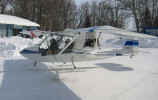 Here is a pic of my Challenger. Its at a friends and fellow Challenger owner's place on Onieda Lake in Central NY. You can see his plane in the background.
[ Up ] [ J.D. Stewart ] [ Chan Shippy ] [ Jim Hayward ] [ Brad Stiefvater ] [ Aaron Hollingsworth ] [ Alan Barnard ] [ Allen Mader ] [ Alvin Melton ] [ Art Freeman ] [ Bill Acker ] [ Bill Duerig ] [ Bill McFarland ] [ Bill Nicholson ] [ Bill Volcko ] [ Bob Lewis ] [ Bob McAdams ] [ Bob McDonald ] [ Bob Robertson ] [ Bob Snyder ] [ Bob Widmer ] [ Bryan Dunkin ] [ Bruce Kinman ] [ Carmel Roy ] [ Charles Thie ] [ Chick Torbett ] [ Claude Roy ] [ Collin Mooney ] [ Cory Wimpfheimer ] [ Curt Heggemeyer ] [ Curtis Watkins ] [ Dan Druen ] [ Dan Lindey ] [ Dan Wroe ] [ Daniel Levi ] [ Danny Tyre ] [ Darrel Richards ] [ Darren Blakley ] [ Darren Dodge ] [ Dave Cobb ] [ Dave Morrow ] [ Dave Stephens ] [ David Cecil ] [ Dick Purdue ] [ Dick Schneider ] [ Don Sampson ] [ Don Smith ] [ Don Varty ] [ Don Zank ] [ Don Witt ] [ Doug Boyd ] [ Doug Hempstead ] [ Doug Reams ] [ Doug Rueth ] [ Doug White ] [ Duane Bessler ] [ Ed Bradley ] [ Ed Hanley ] [ Ed Hughes ] [ Ellery Batchelder ] [ Ephraim Carter ] [ Eugene Devarenne ] [ Frank Beagle ] [ Frank Mills ] [ Frederick Kuester ] [ Fred Ramoni ] [ Gary Freitag ] [ Gary Holtz ] [ Gary Jones ] [ Gary Middleton ] [ George Pettit ] [ Gerd Wirickx ] [ Glen Freeman ] [ Grant Corlett ] [ Greg Perkins ] [ Greg Walls ] [ Guillermo Escutia ] [ Hal Hayden ] [ Hank Dasse ] [ Henry Wortman ] [ Irshad A Qureshi ] [ Jacques Leblanc ] [ James Breland ] [ James Eddy ] [ Jason Green ] [ Jay Dewberry ] [ Jay Faubion ] [ Jean Harvey ] [ Jeremy Casey ] [ Jerry Bartlesen ] [ Jerry Deckard ] [ Jerry Lee ] [ JG Hunter ] [ Jim Hodges ] [ Jim Duke ] [ Jim Hamilton ] [ Jim Hope ] [ Jim Lartin-Drake ] [ Jim Lewellyn ] [ Jim Reed ] [ Jim Robinson ] [ Jim Showker ] [ Jimmy Strickland ] [ John Barnes ] [ John Davis ] [ John Heagy ] [ John Kossup ] [ John Leidenheimer ] [ John Talbert ] [ Jon Ritter ] [ Jules Glogovcsan ] [ Ken Braddock ] [ Ken Ewald ] [ Ken Swasas ] [ Ken Taylor ] [ Kenneth Hart ] [ Kevin Lee ] [ Kurt Kingston ] [ Larry Davis ] [ Larry Gerek ] [ Larry Maner ] [ Larry Whittaker ] [ Leon Garrett ] [ Les MacLean ] [ Lew Pinkham ] [ Lloyd Reeves ] [ Louis Pouliot ] [ Manfred Gottschalch ] [ Mark Curtiss ] [ Mark Huntley ] [ Mark Ingum ] [ Mark Reagan ] [ Mark Starling ] [ Martin Perez ] [ Matt Anderson ] [ Michael Bourget ] [ Michael Brown ] [ Michel Bueffe ] [ Mike Baker ] [ Mike Dix ] [ Mike Harrison ] [ Mike Johnson ] [ Mike Pfeifer ] [ Mike Stephens ] [ Nick Savener ] [ Normand Daigle ] [ Paul Stepp ] [ Paul Tuttle ] [ Paul Wilcox ] [ Phil Baker ] [ Phil Trivilino ] [ Ray Baeza ] [ Ray Olson ] [ Ray Rosekrans ] [ Raymond Hanover ] [ Raymond Nash ] [ Red Stokes ] [ Richard Paquet ] [ Richard Parsons ] [ Richard Strauss ] [ Rick Marshall ] [ Rick Watson ] [ Rob Schonk ] [ Robert Harris ] [ Robert Sanner ] [ Ron Beasley ] [ Ron Henke ] [ Ron Liberty ] [ Ron Munro ] [ Ronnie Wren ] [ Russ Hauser ] [ Russell Calhoun ] [ Sam Davis ] [ Sam Williams ] [ Scott Milton ] [ Scott Smyth ] [ Sean Mercer ] [ Steve Bounds ] [ Steve Busby ] [ Steve Falk ] [ Steve Valk ] [ Steve Kuchera ] [ Steve Madgic ] [ Terry Boshom ] [ Terry Savage ] [ Thomas Jablonski Blackstone ] [ Thomas Marson ] [ Tim Bogenhagen ] [ Tim Campbell ] [ Tim Devorak ] [ Tim Egan ] [ Todd Balsimo ] [ Tom Compton ] [ Tom Sjoblom ] [ Tom Stone ] [ Wayne Silvan ] [ Wayne Waddel ] [ William Rutter ]