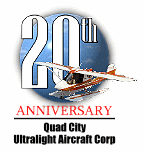 September 17~19, 2004
Challenger II 20th Anniversary.
Erie Air Park, Erie, IL.
Events to include:
Brian DeWitte, Level 3 Rotax repair will have a discussion in the clubhouse and will answer questions, so load up the note pads and stop in.
We will be having the cookout at the South end of the runway again this year Friday and Saturday nights at the bonfire. We hope we will be having fireworks. Confirmed.
We will have EAA Representatives here to inform and educate. By then LSA will be moving right along and there will be lots of questions.
Food vendors will have food all day Saturday. Breakfast: Saturday and Sunday.
Fuel will be on site.
As always there will be primitive camping on site all week if needed.
Frank "Woof!" Beagle will be the master of ceremonies.
Events will be announced as they get set up.
See Jim & Sue Robinson's Website at Erie Air Park, Erie, IL.
[ Home ] [ Photo Gallery ] [ Modifications ] [ Fun Pics ] [ 05 Founders Fly-In ] [ 04 Factory Fly-In ] [ Member's Links ] [ Line Drawings ]